I'm greeting to all, who has decided to have a look into my gallery, where images of my twisted inner world captured in kind of graphic works are exposed: only the graphic arts as opposition black and white are possible to reflect what is hidden in me, what is veiled essence of my feelings...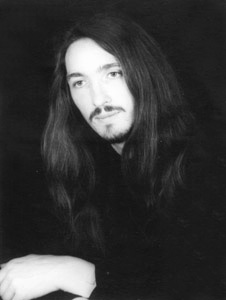 Fate's fancy made me a strange man, gave me a talent of artist. The isolation from the surrounding world assisted me contacting with people, which because of natural qualities are distinguished from the whole mass. Those people always try to find explanation to themselves and world by means of self-expression; but world stands against their actions: world is always something different.
Wish for drawing wasn't my conscious choice. That was caprice of destiny: there is something, for which is impossible to find out logical explanation, but it just hunt out - through you. And your situation is such, that environment in which you had fortuitousness to come into the world resists to your aspiration, and sometimes it is reminiscent of game. But it is bad game for human being. It leads to conflict on the inner level (people with which I inwardly harmonize are in the same situation). Nevertheless, in spite of endless conflict now I feel myself more integral, than I was able to sense before I've self-determinated as graphic artist. The graphic arts have contributed to my growth and complicated my existence in this simplifying world.
I always feel myself so self-sufficient to imitate someone. However, of course inwardly I am close to Durer, Goya, Bosch, Breughel, Callot, Dali, Giger, and modernists of the beginning 20th century… I was learned by them – but they didn't prevent me to be myself 'cause Art is always the same all the time and in every Artist. They've showed to me my originality, they've showed me that I am able to be like them.
Cause for that I've turned to Internet was my wish to come out of local notoriety and to increase circle of the potential audience, which are capable to appreciate my works and to share my disposition and way of thinking; and except of that, it was wish to draw attention to myself of all, which are connected with extreme music to offer myself as graphic artist.
Nowadays I work with several bands playing extreme music from Russia and other countries and do some works for magzines and zines. I do for them logos, design covers, posters, CDs, etc… I can offer the same specter of works for whom it may need: bands, labels, magazines, zines specializing on extreme music – black, death, doom, gothic, ambient.
I have to note that approach to art appearance of the most releases on the extreme scene suffered from shallow. Honestly, sometimes it can be labeled as pot-boiler! It seems that appearance is done by unprofessional people, which do what have to do others. And result – artist's work presents musicians as wretched people. It means there is no reason to talk about opening of music sense through that "works"… It can be remembered Russian proverb: "It's better to loose with clever man, than to find out with stupid one".
In short, I hope you'll be pleased to watch my works! Hope you'll be back recently to my site to plunge one more time into my world of the beyond self.